We weren't going to get a cat we said; we liked the freedom of being able to take off when we wanted to, and at holiday times not having to think about organising care for said cat, plus we were renting in properties that were not open to pet ownership. So that, we thought, was that.
We both had beloved cats in our past lives, and left cats behind with our ex partners. I, particularly, was bereft when D and I separated and  I couldn't take Squiggy. It felt like I had left a piece of me behind, but she had a home and was with her brother who she'd lived with all her life, so I decided it was best to leave her as a Granary cat.
Roll the clock forward four years and my mum dies. This is tragic, and difficult enough, but she had four cats that we have to re-home…
Three of these are "new" cats – well mum had them as kittens two years previously, but I didn't know them very well as one was a mad kitten (Perky by name, perky by nature) and the other two hid under the kitchen cupboards every time I visited. And then there was Lilli.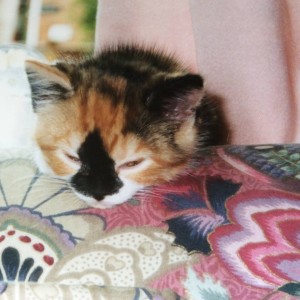 She had been a tenacious rescue kitten from the RSPCA. She was found on top of a garden shed with her litter mates, none of whom survived, and she was only 8 weeks old when mum brought her home on 8 June 2001. Mum had also just got a tom cat kitten called Gulliver  and as the new arrival was so small she decided to call her Lilliput, or Lilli for short. I have known Lilli a long time and she was the only one that I considered making ours, but that meant we were getting a cat!
After mum died we came back to our house for a few days between doing the initial sorting and "death run" (collecting the death certificate…registering the death… will reading…house sorting) and the funeral. While we were back home, amongst other things, I tried to consider the effect of bringing home a cat. In a funny way I knew I would end up with Lilli. While mum was alive she had up to six cats at a time, and I would berate her for her "mad cat woman" look and the fact that often the cats ran riot in what was a very chaotic house to begin with, so it really didn't help having lots of felines and their mess to manage. Mum would be cross and then ask if we wanted one of them. I had said I would have LIlli, but mum replied she wasn't offering me her!
When I did decide finally that I could not bring the cats from my old life as  I could neither separate my cats, not D from either cat, I told him it was OK and that J and I would find a cat that fitted here in this house. I didn't know then how that would work, but the universe was making the space for Lilli. She had always been in a multi-cat household at mum's, and dad said she wanted to be an only cat. Well, she got her wish, on 4th December last year she moved in with us. Two days after my mother's funeral we loaded up the car with her in a basket, and as much cat paraphernalia as we could muster from mum's house. We had sprayed her basket with Fellaway, which is a pheromone spray to calm the feline nerves – worked a treat, not a peep from her on the four hour journey here, the longest time she has ever been in a car. We did refer to it as drugging the cat, but that and a plug-in dispenser of Fellaway in her room here did wonders for her settling in.
She did seem to be at home very quickly,and over a couple of weeks explored every bit of the house.
The wood burner in the living room soon became a firm favourite as she craved warmth, and the winter days it was lit she was always parked somewhere near. She was a bit skinny and waif like when she arrived; no teeth meant she ate slowly, and the "new kitten", Perky, at mum's had taken to stealing her food. We heard her growl at him while we were house clearing after the funeral –  I haven't heard her growl once since she has been with us.
She has always been a vocal cat, and has shouted to be heard. Mum gave all her cats voices, and Lilli's was a yelled "HELLO! I WANT ….". Now she is an only cat her voice has grown more varied and more mellow. She will still shout, particularly when she is saying "WHERE ARE YOU!?" as she has found herself upstairs and we aren't anywhere to be seen, but she will also churp and wurrup when we are closer. Her food noise "MMMMM…EHHH" has been received into J's and my lexicon as the "I want food!" demand for all of us,  and her purr actually became audible after about three months – I had never heard it before.
And so we do have a cat; she is now doing more happy cat things; she rolls, she stretches out; she does more washing of herself and she does like to be fussed (on her terms of course!) She is far more sociable than I ever knew; she will walk round the garden with us, and
sit in which ever room we are occupying – particularly the kitchen where she knows ham may be in the offing. She loves to perch on our knee, and will demand we sit down for her, or she makes a bee-line for the sofa when she sees an available lap. This is a revelation as I always considered her quite a grumpy cat when she lived with mum. I now think she was not happy with lots of other cats, especially as she got older, so is relishing her queen bee status with us.
And we are relishing our cat servant status again too. She dominates our morning routines with breakfast and litter trays (and possible vomit on carpets cleaning – never known such a vomiting cat!) While at 9.40pm she will move to her intercept position on the top of the stairs on the way to her bedroom and demand we put her to bed, after her supper, naturally.
It does of course mean we have another responsibility, and more planning is needed for trips and holidays, but the flip side is we have the satisfaction of providing a lovely retirement home for the old girl, and we are all enjoying her coming into her own at the grand age of fourteen and a half.
Taking care of her is an honouring of mum too. Lilli and I shared an adopted mother and both of us had our lives changed irrevocably when she died, I like that we can be together now taking our shared past with us