The last months have flown by… the planning for our wedding and then a week later the completion of the house purchase have left me with no energy for writing – no head space I guess. I am here now, however, sitting at the dining table in The Glass House with the spring sun trying to break through the early morning grey cloud and I feel the urge once again to capture the moment in wiriting.
Over night it rained heavily and the noise on the glass conservatory that runs across the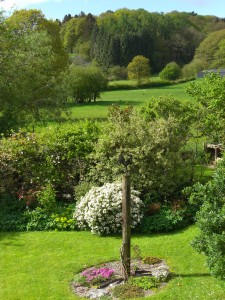 whole of the rear of the house is loud and yet at the same time comforting. The sense I get is of being aboard a ship; water sounds are close and the house timbers creak in the wind, and while nothing sways (thankfully!) I feel a motion, a sailing along in time. This morning I can stand on the bridge balcony and appreciate the garden and beyond; it is a wonderful sight.
The weekly routine has had to change to allow J to continue to work in Oxford. I am spending more time in Shropshire alone during the week but I am relishing the time to inhabit my new home and feel how it feels to live in this place and in this space. J joins me at weekends to potter in his new shed/workshop and to do DIY – he has been a frustrated DIYer since we started renting nearly four years ago!
The house is airy and spacious with a pitched roof in the upstairs living area so it feels a little like a barn conversion, and with all the glass it is warm, very warm. We have installed thermometers and have readings of up to 85 degrees in the lounge when the temperature outside is more like 74, in the consevatory it has reached 95, no wonder the grapes on the vine are growing. The solar panels on the roof heat the water, and so far we have had the sun-heated water temperature reach over 70 degrees, in England, in May! We have started to work out how to open windows or doors to allow free flow of air through the living areas, and to create enough draft to cool it down without making such a gale that things blow away – a  delicate balance required for this and a whole new skill.
Another new skill is adapting to being J's wife – well not so much a skill as a wonderful priviledge. It feels so right and so perfect. On the 2nd May we were joined in matrimony and when we said our vows I felt the truth of our words:
"I promise to love and to care for you, to trust you and be honest with you, to stand by you whatever the future may bring. I promise you loyalty and friendship both now and always."
Our
day was so beautiful, and we are reminiscing about it already – it's only 3 weeks ago! While we await the professional recordings on video and film we have constantly been looking over the photos sent to us by family and friends, where everyone is smiling, talking and enjoying the day, I was stunned by how well our small group of guests got on. For me the day was a perfect blend of intimacy, fun and romance.
The ceremony was in an oak panelled room in a small country hotel and for this most precious part of the day our guests were comfortably sat on sofas. This seems to sum up the wedding; not too formal and a little different to convention.  After the celebratory lunch we continued to buck wedding trends with a non-conventional steam train trip and then an evening hostelry tour… no first dances for us! I bet it is a day we and many of our guests will long remember fondly.
And so today I am sitting and writing in my lovely Glass House and remembering my wedding day. The weather is cooler now and the morning sky has darkened; rain is on the way – however nothing can dim the bliss that is mine; this truely is a merry merry May.